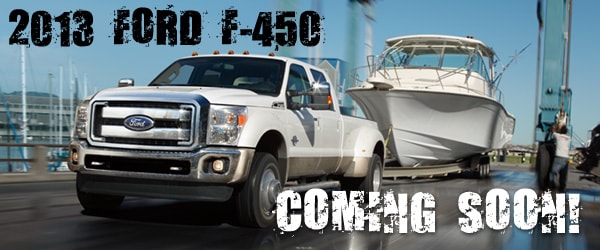 2013 Ford F-450 for sale at Mullinax Ford in Mobile, AL serving Ford Bay Minette, Spanish Fort, and Daphne.
Ford's heaviest-duty F-450 truck carries over for 2012 completely unchanged after receiving a new Ford-designed 6.7-liter turbodiesel engine last year.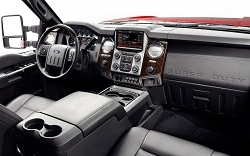 While the 2012 Ford F-450 lacks the choices
provided in the 2012 F-250 and 2012 F-350, the
2012 F-450 makes up for it in towing capacity. Ford's
F-450 comes in four trim levels, varying from the
work-truck oriented F-450 XL, to the luxury-hauler
F-450 King Ranch. All F-450's come standard as Crew
Cabs, with an 8 foot bed, four-wheel drive, dual rear
wheels, and with the 6.7-liter turbodiesel V-8 producing 400 hp and a massive 800 lb-ft of torque as the only engine option. The
diesel is mated exclusively to a six-speed automatic transmission.
The interior of the 2012 F-450 ranges from the no-frills vinyl-covered worker's special F-450 XL, to lavishly equipped in the top-of-the-line F-450 King Ranch. Towing capacity is the same for all F-450s; all can tow a maximum of 17,500 pounds from the hitch. When equipped with the factory-installed fifth wheel, the F-450 can tow a maximum of 24,500 lbs, nearing the point at which some states require a commercial driver's license.